Team
The Mells Roofing team is celebrating 130 years of roofing excellence, but our current workforce can trump that with over 160 years combined experience in the industry. Also, some of our roofers have spent 30 years or more of that time with Mells Roofing.
We pride ourselves on our family run business values filtering into our team, ensuring loyalty and quality from our staff; which translates into excellent workmanship on our customers' projects.
Waterproofing flat roofs has changed beyond recognition. Long gone are pitch and bitumen boilers fired, first by coal and then coke, before propane gas became readily available. Mells rarely use boilers on our roofing works . We have now moved on to laying the complete range of waterproofing materials from rubberised bitumen based materials to PVC and similar synthetics, sheet rubber, 'hot melt' and reinforced liquids. All with life expectances of up to 50 years and more. Green or Sedum roofs, are now a major part of the business and we embrace new products and systems to meet the needs of our customers.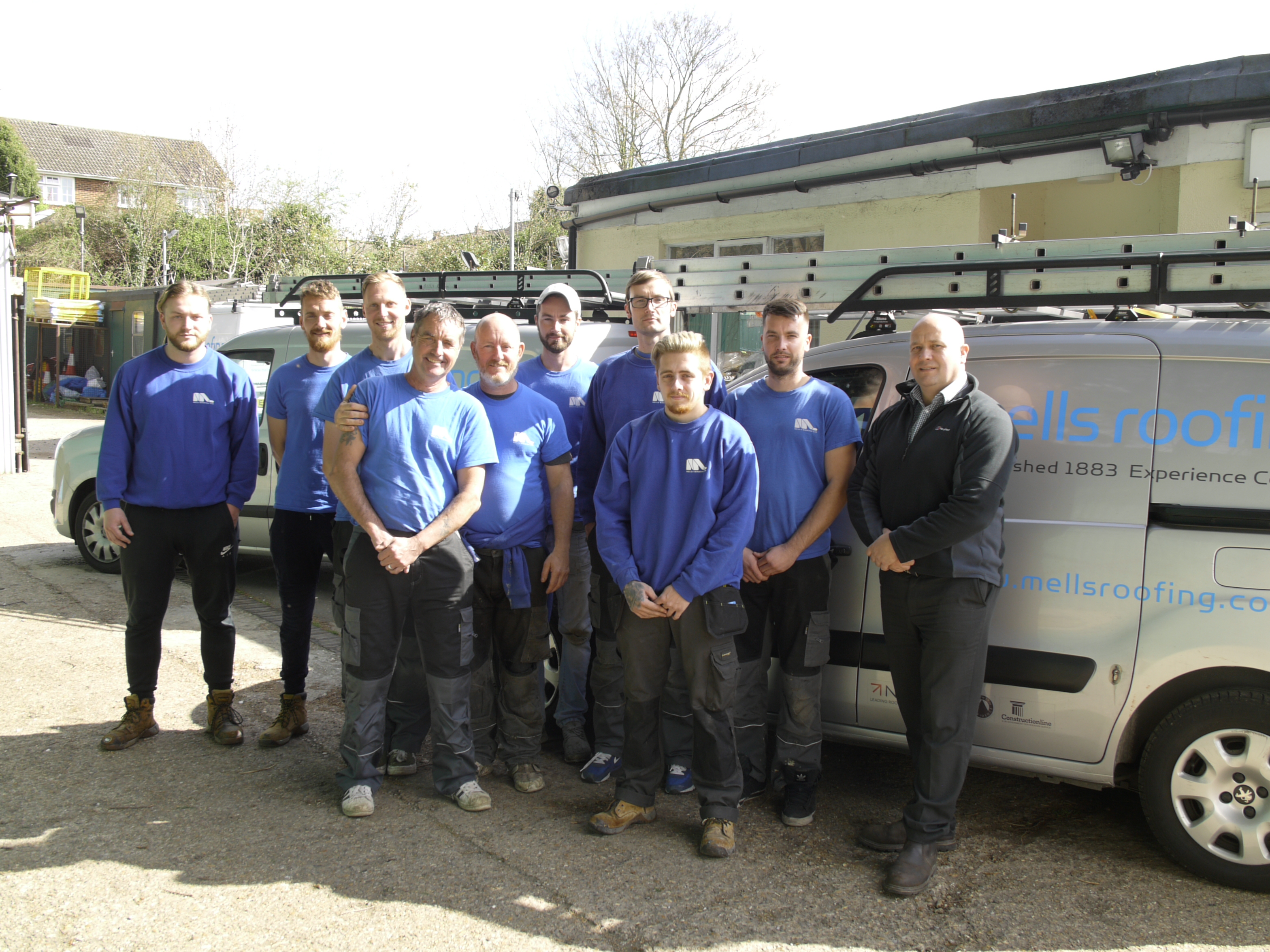 Our Management Team
Since Mells Roofing moved to Southend-on-Sea in 1932, Mells Roofing Ltd has remained a family business. Finally, Peter Fitzgerald along with his son Matthew from Offices in Beehive Lane, Chelmsford
Peter Fitzgerald
Peter is our Managing Director and joined Mells in 1969 after his time in banking. His initial involvement was office based assisting with payroll, accounts and general office systems. His practical nature soon involved him with site work where he took on the responsibility, under the guidance of his father Bernard Fitzgerald, of surveying and estimating. Peter's interest in buildings and new roofing systems as well as financial and management, involved all aspects of the growing Mells Roofing business. He is a founder member of the Institute of Roofing and spent 21 years as a member of the Flat Roofing Contractors Advisory Board and 14 years on their technical committee. He continues to contribute to the roofing industry as a member of the London & Southern Region committee of the National Federation of Roofing Contractors. His technical knowledge is extensive and his interest in new materials and systems means that Mells Roofing is continually embracing the rapidly changing roofing market.
Matthew Fitzgerald
Matthew is our Contracts Director and is responsible for overseeing all aspects of our works on site. He joined the company in 1993 and was hands on helping to lay our first Single-Ply roof at the BT offices in High Wycombe. After a year on the 'tools' involving himself with all the different roofing systems and techniques, under the guidance of Peter Fitzgerald and his uncle Michael, Matthew started his training as a supervisor whilst attending the local technical college and completing a business studies course. Matthew has attended and passed just about every training course available to our industry and has qualified as a member of the Institute of Roofing and is at he forefront of offering specialist services in Flat Roofing Essex. A family man with three young children, Matthew is proud of his position of being the third generation of the Fitzgerald family with the company. He now has a well trained young team around him and will be managing the company and taking it forward, for very many years to come.
Russell James
Russell James is the company supervisor and joined Mells in 2001 after spending two years with the Royal Marines and the Territorial Army.
Russell's time working on the sites stood him in good stead when a position arose in the company for a trainee supervisor. He applied and after a trial period his position was confirmed. Working closely with Michael and Matthew assisting us in specialising in Flat Roofing Essex, Russell is now well qualified in site supervision and matters of Health and Safety. He has attended all the available training courses regarding Health and Safety as well as courses covering Risk Assessments, Method Statements, Management Skills, Leadership and Site Supervision. He has an NVQ in Built up Bituminous Roofing and Single Ply Roofing. Russell is recently married and is settling down to a long career with the company.
Julie Starkey
Julie Starkey is our finance and office manager. She came to us in in 2012 bringing her accountancy skills developed over the years in other office environments. She had a short break while bringing up her two children but is now with us, Monday to Friday, looking after all aspects of the company finances as well as payroll, credit control and a 1001 other matters which are common place in a busy office environment specialising in Flat Roofing Essex. She is often the first voice of Mells Roofing that our customers hear and her calmness and dedication is very much valued. Living in Chelmsford she manages the school run and multi tasks with the running of our office and her growing family.
Beverley Croot
Beverley Croot joined us in 2014 and brought with her a wealth of customer service and office administration experience gained in over 15 year's previous employment at Essex County Council. With her experience she quickly mastered our ACT database and now maintains all our quotations and has built up a very friendly relationship with our customers and suppliers. Beverley also maintains our guarantees, handles all our company training. Working closely with Peter and Matthew to assist in our specialist work in Flat roofing Essex, Beverley assists in opening up new areas of work and the development of new customers. She is currently managing all our Health and Safety records, and ensures the smooth and efficient running of our busy office.