History
The History of Mells Roofing Ltd
The history of Mells Roofing started when John Mell began his flat roofing business in Northern Ireland in 1883 and a little later moved his family to London where he continued to trade under the name of The Roof Kings Compoflex Roofing Company. Around 1915 he moved again to Southend-on-sea and the name was changed to John Mell Roofing. His son Joe came into the business and the business name changed again to J Mell & Son.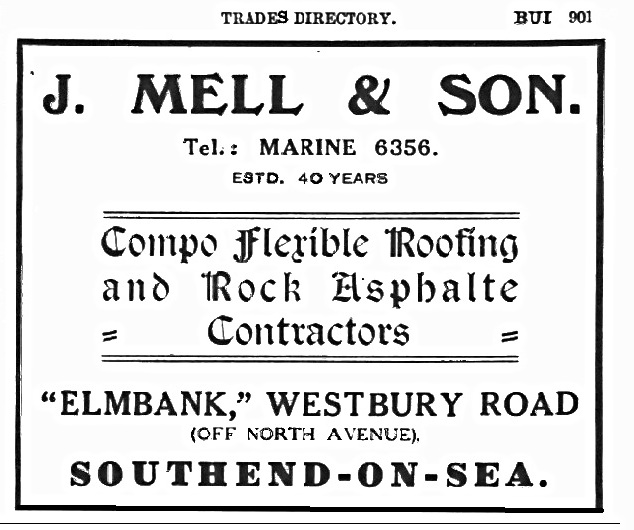 In 1932 Bernard Fitzgerald joined the company to run the office after having qualified as a Company Secretary at Clarks College in Southend. Mells continued to trade successfully and has been responsible for waterproofing the flat roofs to buildings all over Essex and beyond. The Mell family connection ended with the death of Joe Mell and in 1966 Bernard Fitzgerald took complete control. His sons Peter and Michael and daughter Mary, all joined and the business prospered. In 1993 Peter's son Matthew started and brought new ideas and energy as well as ensuring the continuation of the Fitzgerald family connection.
With the business now firmly based in Chelmsford, this gives us easy access to the South East and London. This also means we can deliver good service and quick response to our customers and clients.
A family business
Mells Roofing is a true family business. It continues the tradition of roofing excellence started by John Mell all those years before.
Waterproofing flat roofs has changed beyond recognition. The days of pitch and bitumen boilers are long gone. Fired first by coal and then coke, before propane gas became readily available. Boilers are now seldom used. and the company has moved on to laying the complete range of waterproofing materials. From rubberised bitumen based materials to PVC and similar synthetics, sheet rubber, 'hot melt' and reinforced liquids. All these systems come with life expectances of up to 50 years and more. Green or Sedum roofs, are also now a major part of the business. We also continue to embrace new products and systems to meet the needs of our customers.
Loyal team
Mells Roofing continues with a loyal team of dedicated, highly trained staff. We are also looking forward to celebrating the company's 150 years in 20 year's time.
Our 130th anniversary was marked by a party for all our employees as well as a number of those now retired and who started with the company more than 60 years ago. The party was held at the home of the Managing Director, Peter Fitzgerald.